Inner Sydney High School
This project involves the redevelopment of the Department of Education's site on the corner of Cleveland and Chalmers Streets, Surry Hills to construct a new high school. 
The heritage buildings on the site are being redeveloped as part of the project. They are being refurbished and will be integrated to form a major part of the new school.
The new school's construction will also incorporate principles of energy efficiency and ecologically sustainable development (ESD).
Inner Sydney High School will provide 47 secondary teaching spaces across 14 storeys, and accommodate up to 1,200 students from Years 7 to 12.  Enrolment will be staged, with the first Year 7 students commencing at the school in 2020.
Inner Sydney High School will offer:
facilities that are accessible and flexible to meet the demands of an evolving curriculum 

spaces that are engaging and supportive for students and teachers

technology-rich settings with an emphasis on mobility and flexibility

five 'STEAM' focused floors with facilities for music, food technology and visual arts

multiple sporting and recreational spaces and shared use of Prince Alfred Park.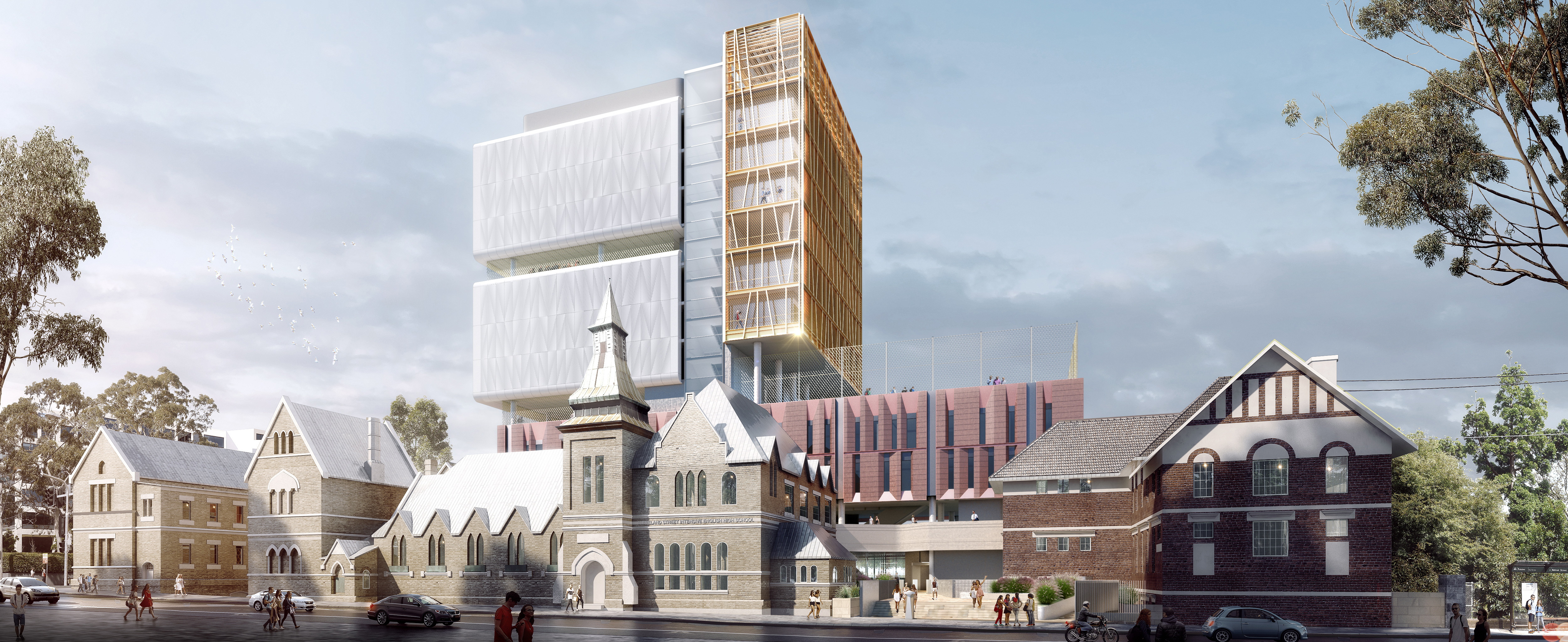 Progress summary
Major services diversions (stormwater, power, and sewage) have been completed in Prince Alfred Park and footpaths and turf are being reinstated.  The area has now been reopened to the public.

Refurbishment works in three existing heritage buildings along Chalmers and Cleveland Streets are progressing in preparation for day 1 term 1 in 2020.

Main tower basement excavation works are complete and construction is at ground level. Formwork for the building lifts is about 10 metres above ground and can be seen from a distance.
Next steps
Upcoming activities include further heritage building refurbishment works and advancement of the main tower.

Frequently asked questions
Where is the new Inner Sydney High School site?
Inner Sydney High School is located on the Department of Education's site at the corner of Cleveland and Chalmers Streets, Surry Hills, Sydney NSW (200 Chalmers Street, Surry Hills). 
The site previously accommodated Cleveland Street Intensive English High School (CSIEHS) now known as Central Sydney Intensive English High School which relocated at the beginning of 2019 to new facilities on Mitchell Road, Alexandria.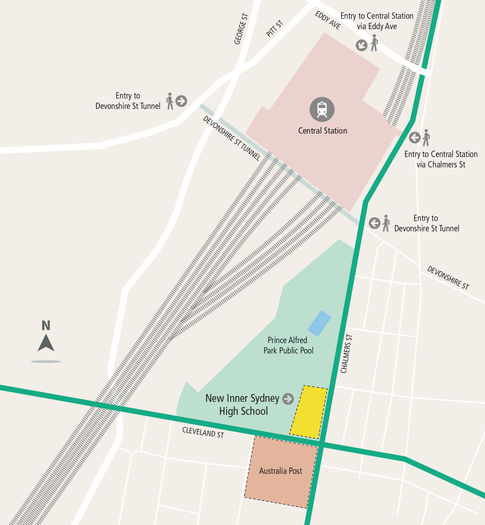 What will Inner Sydney High School look like?
Images on this website show the look of the new school. A design excellence competition was conducted to select a preferred concept design and head design consultant. On 27 April 2017 the then Minister for Education, the Hon Rob Stokes MP, announced Francis-Jones Morehen Thorp (FJMT) as the winner of the design excellence competition and head design consultant for the new Inner Sydney High School.
What is happening to the heritage buildings on the Cleveland and Chalmers Street site?
The heritage buildings on the site are being retained, refurbished and integrated into the new school design. The design includes technology-rich teaching and learning spaces, formal and informal gathering areas for teacher and student interaction, indoor and outdoor spaces, and welcoming meeting areas for parents and teachers. Students are learning in different ways in the 21st century and the design of the new school reflects innovative learning space design principles, while keeping the heritage buildings.
What are the construction hours for the project?
Approved standard construction hours are:
7.00am to 6.00pm - Monday to Friday

7.30am to 3.30pm - Saturday
There will be no work on Sundays and public holidays.
Where essential out of hours works are required, the community will be notified ahead of time.
How will you protect the health of the local community while the new Inner Sydney High School is being constructed?
In accordance with Safe Work Australia and City of Sydney requirements, a safety fence has been erected around the construction site to provide a physical separation to the building works and prohibit student and public entry onto the work site. Construction-related vehicle movements around the site are restricted, according to agreed times and conditions. In accordance with legislated safety guidelines, construction noise and air quality monitoring is being carried out during construction.
Will there be construction noise during 2020?
Inevitably, there will be some noise associated with construction, but every care is being taken to minimise noise and disruption to the school and the surrounding community. The site layout has been carefully considered by the project team to minimise impacts on school operation during 2020.
When will construction be finished?
The refurbished heritage buildings are scheduled to be completed by January 2020, with construction of the new building due for completion by late 2020.
When will photos and video of the new buildings and construction be shared with the community?
Construction photos and time lapse footage are being regularly updated on this website.
How can I find out more?
School Infrastructure is  committed to working together with our school communities and other stakeholders to deliver the best possible learning facilities for students.

Your feedback on this project is important to us.  For more information, if you have questions or would like to make a comment, please email us at
schoolinfrastructure@det.nsw.edu.au