Inner Sydney High School
This project involves the redevelopment of the Department of Education's site on the corner of Cleveland and Chalmers Streets, Surry Hills to construct a new high school. 
The new Inner Sydney High School will provide 47 secondary teaching spaces across 14 storeys, and accommodate up to 1,200 students. 
The new Inner Sydney High School will offer:
facilities that are accessible and flexible to meet the demands of an evolving curriculum 
spaces that are engaging and supportive for students and teachers
technology-rich settings with an emphasis on mobility and flexibility
five 'STEAM' focused floors with facilities for music, food technology and visual arts
multiple sporting and recreational spaces and shared use of Prince Alfred Park.
No heritage buildings have been demolished as part of the redevelopment and the heritage buildings are being refurbished. 
The new school will incorporate principles of energy efficiency and ecologically sustainable development (ESD).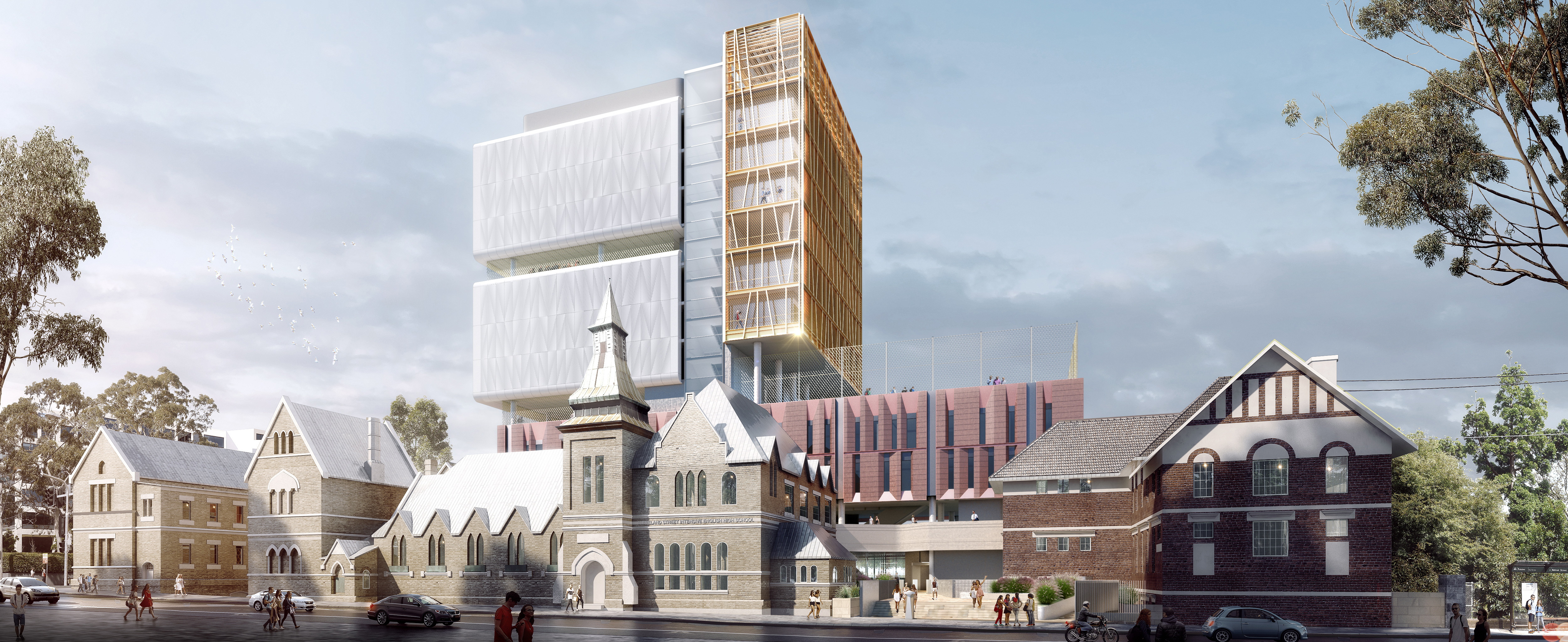 Progress summary
The bulk and detailed excavation to the basement of the tower has been completed. Two thirds of the basement slab has been poured.
The lift core jump form and stair core walls are being installed.
Refurbishment works in the heritage buildings are progressing, including installation of wiring and cabling.
Next steps
Following completion of the jump-form in mid-May, construction of the lift core will commence for the lower levels.
Heritage refurbishment works will continue.
Reinstatement works in Prince Alfred Park have started and are expected to be complete in early June.
The northern portion of the basement slab will be poured in mid-June.
Community updates
Principal appointment – Robyn Matthews
School catchment boundaries
How to enrol
Inner Sydney High School website
How can I get involved?

Frequently asked questions
Why do we need a new high school?
Analysis of available demographic data indicates there has been substantial increases in the number of school-age children living in the inner Sydney area and as a consequence, student enrolments in public schools in recent years. It is anticipated that this demographic trend will continue long term. A new public high school is required to meet demand.
Where is the new Inner Sydney High School site?
Inner Sydney High School is located on the department's site on the corner of Cleveland and Chalmers Streets, Surry Hills, Sydney NSW (200 Chalmers Street, Surry Hills). The site previously accommodated Cleveland Street Intensive English High School (CSIEHS) now known as Central Sydney Intensive English High School which is housed in new facilities on Mitchell Road, Alexandria.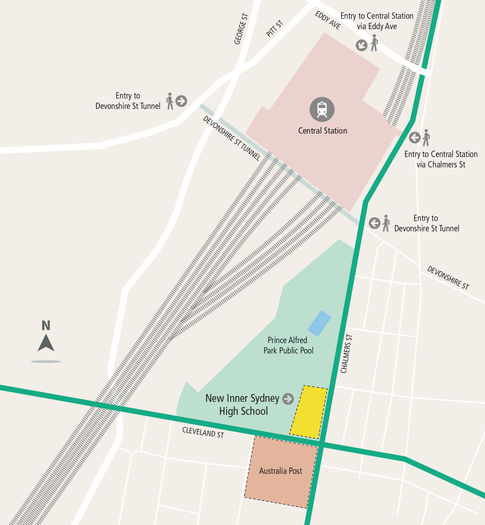 Why is the Inner Sydney High School only accepting enrolments for Year 7 in 2020?
A staged approach to school operations will begin with Year 7 students in 2020. Students and staff will be accommodated in the refurbished heritage buildings along Chalmers Street while the completion of the project continues during 2020. This will provide time to start to develop the school culture and to establish systems and processes in consultation with key stakeholders to reflect the school's growing identity.
What will be the name of the school?
Consultation on the name of the school will start in Term 2, 2019.
How will the school logo, uniform and motto be decided?
A series of workshops will be held in Term 2, 2019 as consultation begins for the development of the school logo, school colours, school uniform and school motto. Parents/carers and students are encouraged to participate in this exciting phase of the school's development.
What are the school's educational principles?
Inner Sydney High School's architectural design has been developed around the following Educational Principles:
facilities that are readily accessible and flexible to meet the demands of an evolving curriculum, in line with innovative learning space principles
flexible and well-connected teaching and learning spaces that enable a variety of teaching and learning practices
spaces that are engaging and supportive for students and teachers
technology-rich settings with emphasis on mobility and flexibility
healthy and environmentally sustainable learning spaces
innovative, connected outdoor spaces that allow for play and collaborative learning.
Will Inner Sydney High School have a specialisation?
The new high school will not be a specialist school, although over time it will develop its own identity and uniqueness. It will be a comprehensive Year 7 to 12 co-educational high school. How the school's identity and uniqueness manifests will be an exciting challenge for the new school and its community.
What subject selections will be available in 2020?
As for all government and non-government schools in NSW, the curriculum for Inner Sydney High School will be consistent with the requirements of the NSW Educational Standards Authority (NESA) incorporating the Australian Curriculum. NESA is responsible for developing the syllabuses to be taught in NSW schools, for students from Kindergarten through to Year 12.
What extra-curricular activities will be available in 2020?
Extra-curricular activities will be considered, according to the school context and students' interests and needs. Through consultation with incoming students and their families, suitable options will be identified for implementation in 2020.
How can parents of primary aged school children get involved in the planning, operation and selection of programs for the new school?
Parents intending to enrol their child in Year 7 2020 will be able to get involved in foundation parent discussion groups. These groups will be established in 2019.
How will the P&C start?
Once the student cohort is established, planning will begin for the school's P&C committee.
How was the catchment determined?
The catchment was determined through extensive consultation with primary and high school principals and demographers who analysed projected enrolments in the inner Sydney area.
What if I don't live in the catchment area but still want my Year 7 child to attend Inner Sydney High School?
The same process will be followed as for other NSW public schools. Requests for out-of-area enrolments will be managed in accordance with the Department's enrolment policy.
When will out-of-area enrolment applications be processed and families notified?
Out-of-area applications will be processed according to the department's Year 6 – 7 transition calendar. Offers will be made, and a waiting list established, by the end of Term 2, 2019.
The standard process will apply for requests for out-of-area enrolments in accordance with the department's enrolment policy.
Please make an EOI application for an out-of-area enrolment for Year 7 for 2020 via the normal enrolment procedures available through your primary school.
What if I am in-area for Inner Sydney High School but still want my Year 7 child to attend the previous in-area school?
There will be a transition period of three years during which students will be able to be enrolled in the current in-area school, if there is a sibling enrolled in that school and this is the wish of the student's parent or guardian. After the three year transition period such enrolments will be considered as 'out-of-area' with requests managed in line with the Department's policy and each school's enrolment policy.
Will there be opportunities to tour the school in 2019?
The school is currently an active construction site, but we are working towards providing opportunities for small group partner primary school and community tours from Term 2, 2019 onwards. Booking arrangements will be circulated once tour dates and times are confirmed.
What will Inner Sydney High School look like?
A design excellence competition was conducted to select a preferred concept design and head design consultant. On 27 April 2017 the then Minister for Education, the Hon Rob Stokes MP, announced Francis-Jones Morehen Thorp (FJMT) as the winner of the design excellence competition and head design consultant for the new Inner Sydney High School.
Will there be a designated drop-off zone?
A designated kiss and drop zone will be established on Chalmers Street.
What is happening to the heritage buildings on the Cleveland and Chalmers Street site?
The heritage buildings on the site are being retained and integrated into the new school design. The design includes technology-rich teaching and learning spaces, formal and informal gathering areas for teacher and student interaction, indoor and outdoor spaces, and welcoming meeting areas for parents and teachers. Students are learning in different ways in the 21st century and the design of the new school reflects innovative learning space design principles.
How will you protect the health of the local community while the new Inner Sydney High School is being constructed?
In accordance with Safe Work Australia and City of Sydney requirements, a safety fence has been erected around the construction site to provide a physical separation to the building works and prohibit student and public entry onto the work site. Construction-related vehicle movements around the site are restricted, according to agreed times and conditions. In accordance with legislated safety guidelines, strict monitoring of construction noise and air quality is being undertaken during construction.
Will there be construction noise during 2020?
Construction will continue at the Inner Sydney High School site until late 2020. All care will be taken to minimise construction noise and disruption to the school and surrounding community. The site layout has been carefully considered by the project team to minimise impacts on school operations. Weekly interface meetings will be scheduled with the school principal and the project team to coordinate construction related activities and mitigate disruption.
When will construction be finished?
The refurbished heritage buildings are scheduled to be completed by December 2019 with construction of the new building due for completion by late 2020.
When will photos and video of the new buildings and construction be shared with the community?
Construction time lapse footage is being updated monthly.