Innovative Learning Environments: Fact sheet

Innovative learning environments support many ways of learning
Innovative Learning Environments (ILEs) feature space, furniture and technology to support greater collaboration and improved learning outcomes.
The flexible design of ILEs helps teachers provide a broad range of learning experiences. The spaces help empower students to learn at their own pace and support their learning in different ways. Designed with students at the centre, ILEs allow for teaching that suits individual needs and interests.

Learning activities are:
inclusive
engaging
authentic
connected. 
Innovative learning prepares students for jobs of the future
Our children's education is vital – they are the next leaders, the future workforce and the foundation of communities for years to come.
ILEs empower teachers to prepare students with the skills and capabilities they need to thrive in a rapidly changing and interconnected world. Teachers can engage their students' curiosity, connect their learning to the real world and foster collaboration. 
Learning
Personalised learning, so each student is learning at their own level and pace.
Students learn as a whole class, in small groups or individually.
Students can work on the same project in different subject areas, encouraging cross-disciplinary learning.
Students
Move around the learning space to encourage collaborative learning.
Work across a range of projects simultaneously.
Engage in hands-on learning, building and testing.
Adapt their learning space to meet their needs and support choice.
Teachers
Move around the learning space rather than teaching from the front of the room.
Plan learning together, in faculty and stage teams.
Teach in teams to better meet the needs of students.
Adapt space to support learning activities and personalised learning.
Learning Space - Physical
Zones for different activities with furniture and resources, such as booths, standing tables and studios.
Spaces can be connected by glass or sliding doors to extend the learning space.
Spaces are designed flexibly, to support sharing by multiple learning groups.
Learning Space – Digital
Technology integrated into the space to extend learning.
Accessibility of technology to suit different activities, for example filming and recording equipment.
WiFi accessible across all learning areas.
Learning Space – Social
Learning spaces support informal and formal learning activities.
Breakout spaces support collaboration and social learning, indoors and outdoors.
Breakout spaces support teacher prep.
We are changing learning spaces to support contemporary learning and teaching
Contemporary learning and teaching supports educators and students to:
Gain new skills valued by a changing workforce
Explore new ways to interact with information
Understand different ways to learn.
As learning is changing, so too are the learning spaces that support learning activities.
Student-centred and personalised learning is a focus. Students can take ownership of their own learning journey, preparing them to embrace lifelong learning.
Learning is integrated across subjects, and real-world impacts are constantly emphasised.
Broader connections and partnerships are encouraged, to build a sense of belonging and to enable students to actively contribute to their communities. It allows them to apply skills and knowledge in ways that they will apply them in the future, linked to the real world.
Innovative learning environments are flexible
Spaces are designed to facilitate a range of learning modes and activities: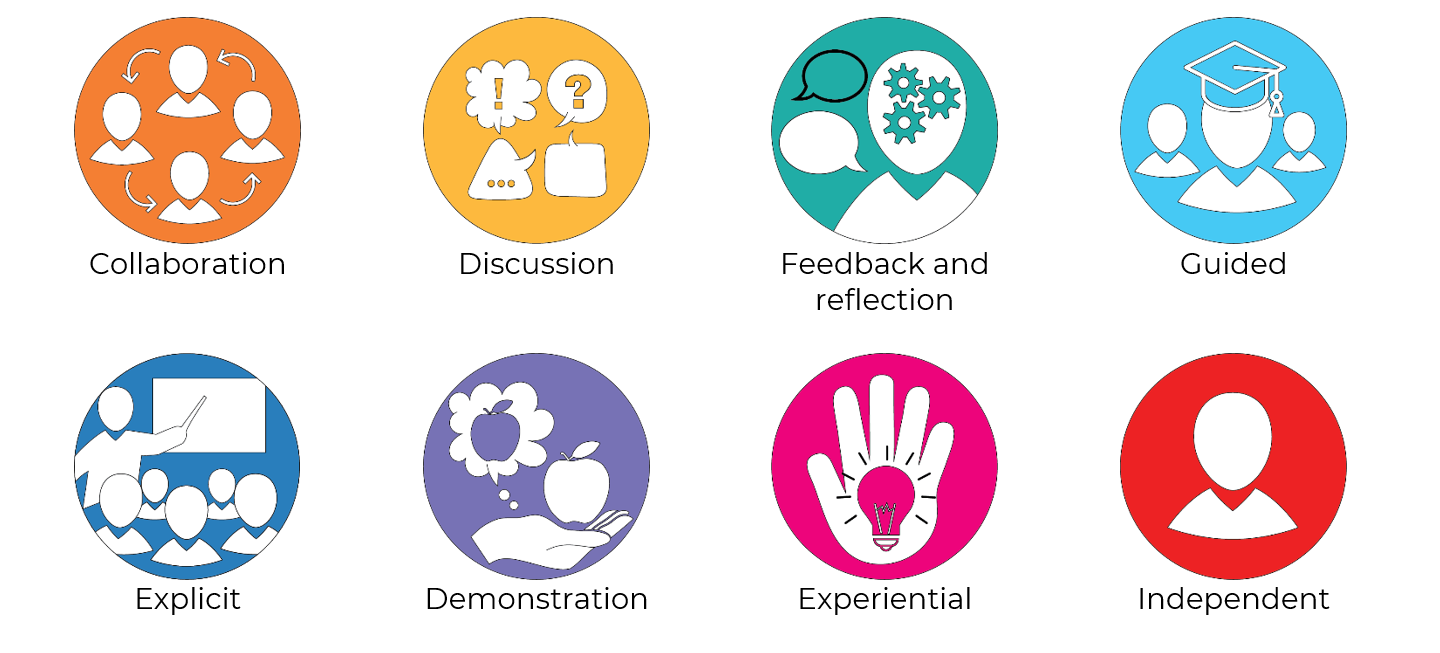 We design spaces that support contemporary learning and teaching across these modes. ILEs cater for explicit learning and a diverse range of learner needs.
Because of their flexibility, ILEs can be redesigned easily to suit different learning intentions and maximise comfort. Students can take part in the ongoing design and layout of the spaces. Building a culture of shared ownership promotes each student's sense of belonging.
Seating is flexible, allowing for easy transitions between learning modes and activities. It provides students and teachers with choice in how and where they learn.
Using glass and sliding doors:
supports flexible room arrangements
encourages movement throughout spaces
creates better collaboration between teachers and students.
Technology supports other learning activities to achieve teaching goals
Students use technology as a learning tool, along with other learning activities, to:
investigate
create
communicate
collaborate.
Digital technology helps students to collaborate in ILEs to achieve teaching and learning goals.
Innovative learning environments are backed by research
A wide range of Australian and international research studies have informed how we design teaching modes and learning spaces in NSW public schools. These studies show:
Case studies
A study of 9 NSW high schools that were using flexible spaces and student-centred teaching showed that the students spent a higher proportion of class time interacting, collaborating and engaging with their lesson content.
Physical spaces like ILEs accounted for a 16% variation in learning progress, according to a study of British schools.
In one British study, students were taught maths in ILEs – their results were higher than students who were taught in traditional classrooms.
A meta-analysis of 158 research studies showed that the traditional lecture style increased failure rates in STEM subjects by 55%, compared to students taught in active and innovative learning modes and spaces.
This work on ILEs is informed by our partnership with the Innovative Learning Environments and Teacher Change Project, MGSE, University of Melbourne. Visit www.iletc.com.au for more information